Kilimanjaro. Ghiacciaio Furtwängler.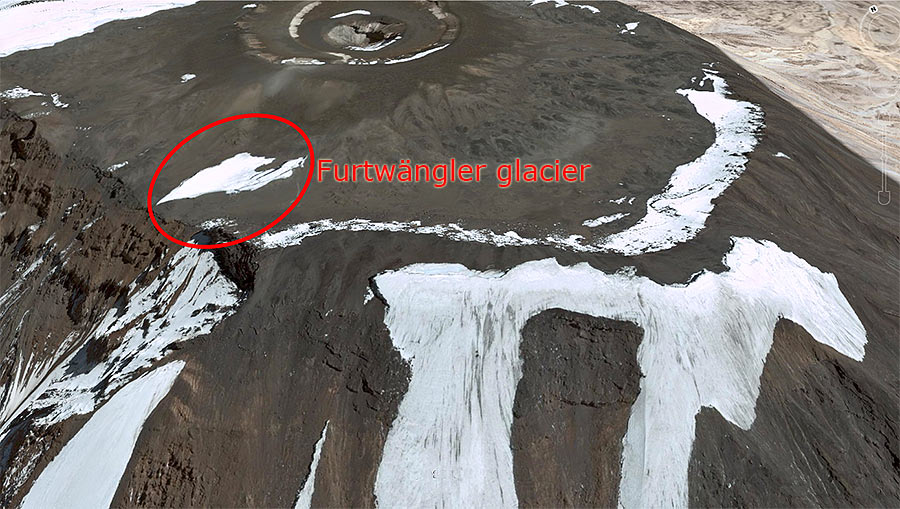 Il ghiacciaio Furtwängler si trova sulla cima del Kilimanjaro ed è un piccolo resto dell'enorme ghiacciaio che una volta ne coronava l'intera cima. Deve il suo nome a Walter Furtwängler che, con Ziegfried Koenig, furono i quarti a salire in cima al Kilimanjaro nel 1912. Il grande cappello di ghiaccio del Kilimanjaro si è notevolmente ridotto nel tempo, e fra il 1912 e il 2000 ha perso l' 82% della sua dimensione e ci si aspetta che sparisca totalmente nel 2020.
------
The Furtwängler Glacier, near the summit of Mount Kilimanjaro, is a small remnant of the enormous icecap which once crowned the summit of Mount Kilimanjaro. The glacier is named after Walter Furtwängler, who along with Ziegfried Koenig, were the fourth to ascend to the summit of Kilimanjaro in 1912. Between 1912 and the 2000 the icecap has lost 82% of the glacial ice, and it is expected to disappear by the year 2020.